Cosmetic Dentistry in Danville, CA
Countless dental surveys have found that Americans place a very high value on the appearance of their teeth. A nice smile tops the list of the most important features to have along with clear skin, bright eyes and beautiful hair. Thanks to innovations in cosmetic dentistry, you can get a perfect smile in just a few appointments at the John P. O'Grady, DMD office in Danville, CA office.

What Is Cosmetic Dentistry?
Any treatment that is performed to improve the look of your teeth falls under the category of cosmetic dentistry. Dental professionals have been administering cosmetic procedures for decades, and in ancient times people used shells, stones and animal bones to create makeshift dental restorations. Today, cosmetic dentistry is a $2.75 billion industry.

Top Cosmetic Treatments
Though patients most often go to the dentist's office because there's an urgent problem, some go specifically for a cosmetic solution. Here are some of the top cosmetic treatments used in dental offices across the country:
Braces (Metal and Invisalign)
Crowns & Veneers
Porcelain Inlays, Onlays, & Tooth Colored Fillings
Dental Implants
Professional Teeth Whitening
Therapy For A "Gummy Smile", which is a disproportionate amount of gum tissue and too-small teeth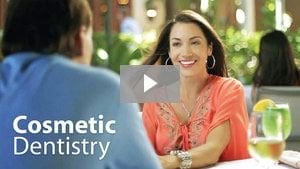 Share your thoughts. Communication is an extremely important part of the smile makeover process. At the first makeover consultation, it helps if you describe what you would like to change in as much detail as possible. Bring along pictures of smiles you like, or of how your own smile used to look. Your makeover dentist will have some thoughts to share with you as well because dentists are trained to look at smiles in terms of facial balance. In other words, a dentist will look not only at how the elements of a smile (teeth, lips and gums) relate to each other, but also how they blend in with the face as a whole.

Make a plan. An important part of planning a smile makeover is a comprehensive dental exam. Cosmetic Dentistry offers an amazing array of lifelike tooth restorations and treatments; but first, any conditions in your mouth that may jeopardize a good result must be taken care of. If your teeth are discolored, for example, the reason must be determined. You may have an underlying dental disease that needs to be treated before whitening your teeth; otherwise, the whitening may not last. Likewise, if you often drink red wine or other beverages that stain, you might do better with porcelain veneers than bleaching treatments.

Try it out. A smile makeover is an investment that is meant to last. That's why many of the procedures performed are irreversible. So if you are contemplating some changes, it's a great idea to try them out before you fully commit to them. There are many ways to preview the results: computer imaging, 3-D models, and even placing temporary restorations on your teeth so you can see what the final results will look and feel like in your own mouth. This also allows a fine-tuning of the makeover plan.
A "trial smile" is a great way to eliminate unknowns in the makeover process. But when it's all done, there's still one thing you may not be prepared for: how great it feels to flash your new smile to the world!

You can request these treatments & more at John P. O'Grady, DMD in Danville, CA
Getting Your Perfect Smile
In some cases, your dentist will recommend a combination of cosmetic treatments to help you get your perfect smile. For example, your treatment plan may include Invisalign clear aligners to reposition your teeth and professional whitening to make them look brighter. In some cases your dentist might need to use both veneers and crowns to recreate your smile.
Want to learn more about cosmetic dentistry services at John P. O'Grady, DMD?
Call our Danville, CA office at (925) 820-5585 to book an appointment today!